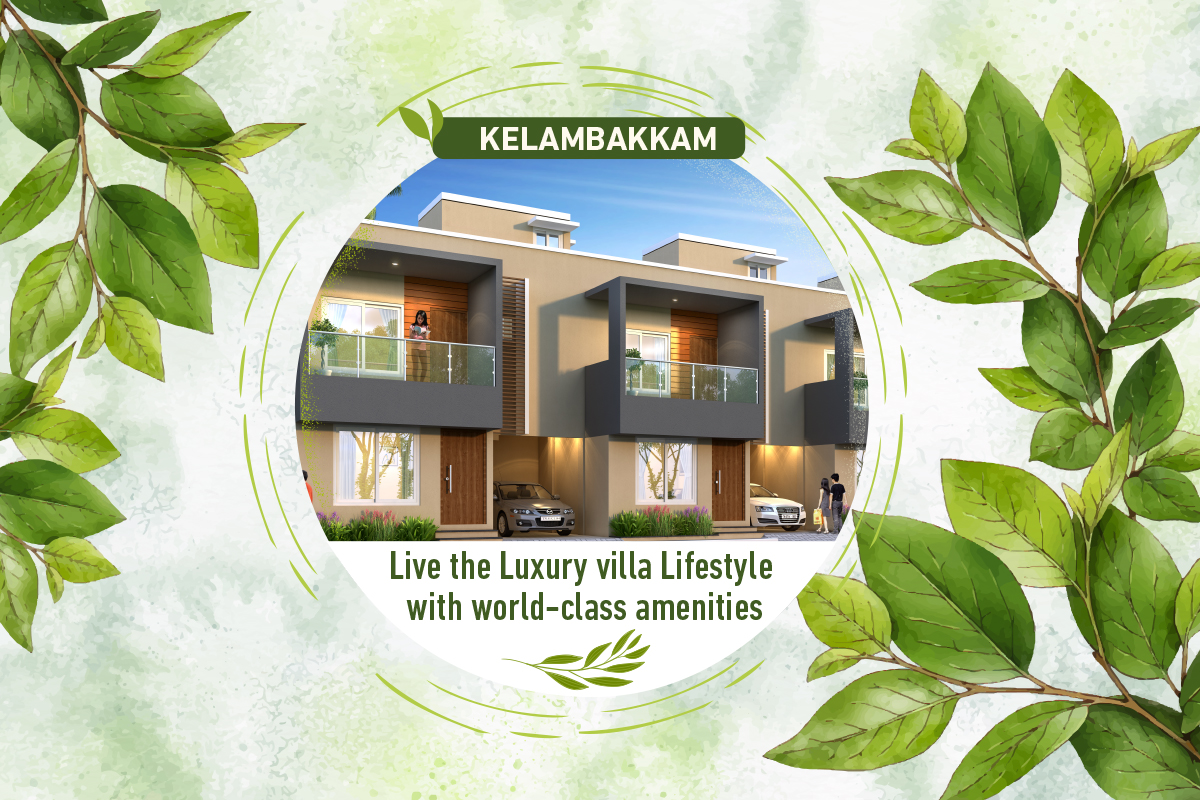 Live the Luxury villa Lifestyle with world-class amenities
Villa Living – Enjoy the best of both the worlds
One factor that most of the home seekers wish for while they buy their dream home is Privacy. In the present-day times when work from home and online schooling has become the new normal, every member of the family requires a private, calm and undisturbed space at home where they can focus on their tasks with no distraction. Though individual house offer privacy to residents, it costs much, making it not viable for many, also security is a big concern in individual houses and also the lack of amenities is another disadvantage.
To bridge this gap and to offer the best of both the worlds to home -buyers, leading real estate developer Alliance offers Humming Gardens –
These Gated community Villas are located right on the IT corridor, OMR, in a green and serene layout spread across 27 acres of land. The contemporary style luxury villas offer the inmates absolute priva
cy and their uninvaded space where they can relish their activities.
Every villa comes with space for private garden where one can indulge in the relaxing hobby of gardening and also grow produce for their needs.
Along with privacy is viable a very active a socially connected life with other residents including community farming in the vast area exclusively allocated in the Gated community for it.
These artistically built villas on OMR are equipped with amazing amenities, and the community is equipped with 24*7 complete security to ensure the safety of the residents.
Away from Pollution, a Healthy Holistic Living
The crowded and polluted streets of the city deprive individuals who reside there a healthy living. In today's world everyone has woken up to the importance of health and indulge in gymming, yoga and other physical activities to lead a healthy life. In this scenario the place where one resides assumes great importance. One should move away from Pollution and choose to live in a natural and unpolluted environment like that at Humming Gardens, OMR, which offers a pollution free healthy environment amidst natural beauty and serenity. These luxury villas in OMR have a canopy of greenery by the Hundreds of trees spread over 27 acres of green land. Apart from the scenic beauty that surrounds these villas, each villa in Humming Gardens comes with a space allocated for organic farming, bringing the residents close to nature and providing them the wonderful opportunity to grow green produce which they can consume without the fear of pesticides.
Amazing amenities for Comfort and Luxury
The luxury Villas in Humming are equipped with a wide spectrum of amenities that come within the safe confines of the Gated Community. Features such as a world-class club house to host the fun parties for friends and family, a fully furnished Gymnasium for the workout sessions, Indoor Courts for sports like Badminton, Tennis, Squash, Library for the avid readers, Yoga/Meditation centre for the blissful meditation sessions in the lush green environment of community, departmental store to address the everyday requirements and more. All these features help residents lead a comfortable and self- sustained life in the safe confines of the society.
With wonderful amenities for comfort, a green and pure environment for healthy living and absolute privacy to enjoy life to the fullest, the luxury villas at Humming Gardens are truly the owner's Pride